Whitepaper
TOOLING APPLICATIONS WITH EOSINT M
Mike Shellabear, Joseph Weilhammer
EOS GmbH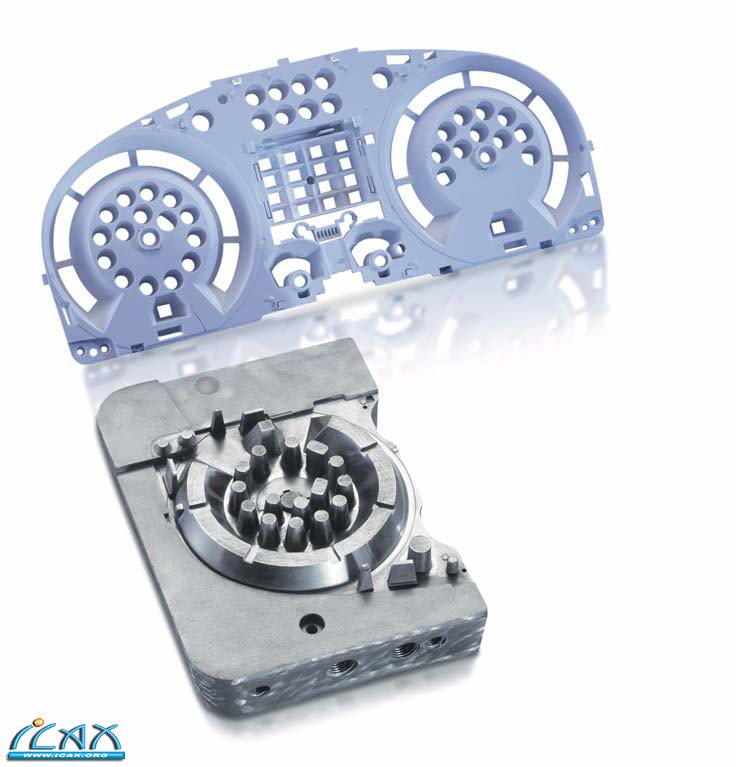 1. Introduction
EOSINT M systems manufacture solid metal parts by locally melting and resolidifying metal
powder using a focussed laser beam, layer by layer, to build up the desired geometry fully
automatically from 3D CAD data. Because metal powder is turned directly into solid metal
parts, the production process is known as Direct Metal Laser-Sintering (DMLS). Depending
on the powder material and processing parameters used, a wide range of part properties can
be obtained, from controlled porosity for venting or filtering, up to fully dense structures
with strength superior to cast or forged components. The layer-wise production enables
even highly complex geometries to be manufactured directly, often eliminating the need for
milling paths or EDM, and provides a unique freedom of design.
Tooling has been the main application of EOSINT M technology for at least the first decade
since its commercial launch in 1995. This application is known as DirectTool due to the very
short process chain, which enables tooling components to be manufactured in a very short
time. For this reason, early users concentrated on "Rapid Tooling", i.e. using the technology
to reduce the lead time for tooling. In the early years only relatively soft materials were
available, so that mostly prototype tooling for plastics processing was produced, but with
continual improvement of the technology the application range has extended to series
production tooling for plastics and also tooling for metals processing. In addition to the
"rapid" aspect, the focus has shifted more to using the unique geometric possibilities of the
technology to design "advanced tooling", for example by integrating conformal cooling
channels into tooling to improve quality and economics in production. Today EOSINT M tools
are being used for example to injection mould millions of plastic parts and to die cast tens
of thousands of metal parts.
This white paper gives an overview of how and why EOSINT M technology is used in tooling
applications, focussing in particular on the most common application, injection moulding.
2. Reasons for applying DirectTool and application examples
2.1. Rapid Tooling for time and cost saving in toolmaking
Toolmaking is generally a costly and time-consuming activity, involving many process steps,
expensive equipment and qualified personnel. Using conventional manufacturing
technologies, even a relatively simple two-part (open-shut) injection mould typically
requires CNC milling combined with Electrical Discharge Machining (EDM) to produce the
moulding geometry of the cavity (injection side) and the core (ejector side). The milling may
require removing large quantities of material from a metal block, and/or separate steps for
rough and finish machining, and always requires the generation of CNC tool paths. Deep
slots or sharp internal corners which cannot be milled require the production of EDM
electrodes, each of which needs to be CNC machined and then positioned for eroding the
relevant part of the tool. Tooling for more complex parts geometries often requires sliders,
removable inserts or other features, which make the production even more complex and
therefore costly and time-consuming. Therefore there is often a high motivation to apply
methods which can save time and costs in tooling production. DMLS can greatly contribute
to this by in many cases replacing milling and EDM steps. A good example of a relatively
simple project is shown in Figure 1.



In this case the requirement was for series production of two small plastic components in
polycarbonate. Although fairly simple, conventional tooling would still have required EDM
work. Using an EOSINT M 270 system, the core and cavity were built in just 5 hours 40
minutes. No post-machining was required, the finishing only involved shot-peening and
slight manual touching up. The core and cavity were mounted directly onto the injection
moulding machine, and production was started. Only six days were needed from project start
to series production.
Figure 2 shows a much more complex project, which was performed by FIT GmbH.